General
SAP
Xtract IS
Xtract Universal
ERPConnect
Required Support Information for Xtract for Alteryx
When submitting a support ticket,
provide as much information as possible for the Theobald Software support team to understand and analyze the issue.
Tip: Search our Online Help to find
more information on how to use and configure
Xtract for Alteryx
.
Mandatory Information
The following information are required to process a support ticket.
Logs:
Transmit the entire log and no excerpts.
Run your workflow.
Display all result logs (1).
Right-click in the result log section and select [Save As...] (2).
Save the logs as a .txt file and attach the file to your support ticket.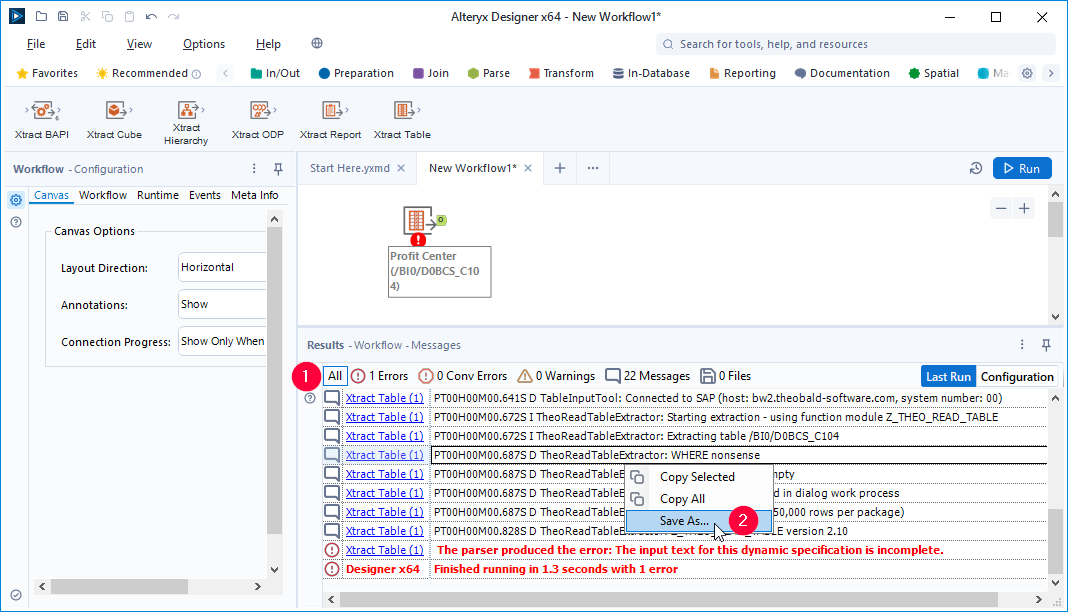 Optional Information
The following information are optional and can be requested by the technician.
Trace files:
Select the Xtract component you want to trace.

In the Connection section of the component, click [Edit]. The window "SAP Connection Details" opens.
Activate tracing by selecting a directory in which to store the trace files.


Execute the steps that led to the error message.
Go to the trace directory and make sure that trace files (.xml files and .trc files) were written.
Delete the entry in the connection's Trace directory

field after the tracing is not needed anymore.

Zip the complete

trace folder and send it to the Theobald Software support technician.